WooCommerce Coupon Exclusions is a powerful and easy to use WooCommerce extension which provides extended coupon usage restrictions.
Tested with the latest versions of WordPress and WooCommerce, even though those might not yet appear under Compatible With on this page.
Requirements
Compatible with the latest version of WooCommerce.
Support
You are welcome to post questions and suggestions on the plugin page.
Please rate it!
Please rate this item once you have tried it. Please let us know if you have problems before you give a low rating. Many problems have usually an easy solution and we're glad to help you. Your feedback is important so that improvements based on your needs can be made, and suggestions are always welcome!
Features
This WordPress plugin allows to restrict the validity of a coupon based on other coupons applied. It also allows to remove specific coupons when a coupon is applied.
It provides a new Exclusions section for coupons. This new section features the following restriction facilities when a coupon is edited:
Exclude : One or more coupons can be chosen, the coupon is invalid if any of the chosen coupons are applied to the cart.
Remove coupons : The coupons chosen here are removed if the coupon is applied to the cart.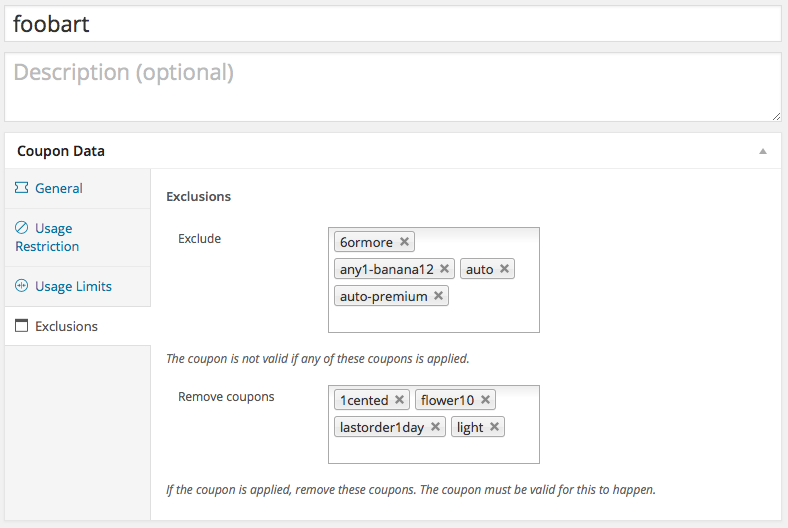 Documentation
Please visit the Documentation page for this extension.
Purchase the Singe item from above, or To get access (download access) to this item and all items of our website, select and get a Premium Membership Plan and get access to all items of our website.
Already a Premium Member?
Log In
You must log in to submit a review.